Faucetpay micro-wallet platform - All your Faucet earnings in the same place
Published on 24 July, 2022
FaucetPay isn't a good option for earn cryptocurrencies. It is mainly worth it if you earn on other sites where you are required to join FaucetPay to take out your crypto earnings. So it acts as a micro-wallet that you can use to save all your Faucet earnings. But is FaucetPay even legit and worth joining or a scam to stay away from?
Advertisement
What is FaucetPay and what does it offer?
FaucetPay is mainly a micro wallet that also has Get-Paid-To (GPT) features, which makes it quite a unique site. But for the purpose of this review, we will be looking at the GPT aspect of the site. As for its legitimacy, FaucetPay is indeed a legit site since it will really pay you for completing simple tasks.
Now, to fully understand how this site works, we have to take a closer look at the earning opportunities it offers. By doing so, you can also get a snapshot of how well you can earn from this site.
I have, therefore, made a video that gives you an inside look and shows exactly how you can earn from FaucetPay
Option 1 – Paid surveys
When you become a member of FaucetPay, the first earning opportunity that will be accessible to you is their paid surveys. The reason why I say it is the first accessible opportunity is, the other earning opportunities need to be unlocked (I will explain later how to unlock them).
Take note though that the paid surveys I'm referring to here are the paid surveys from one of their partner sites (TimeBucks). Their actual paid survey section has to be unlocked like their other earning opportunities.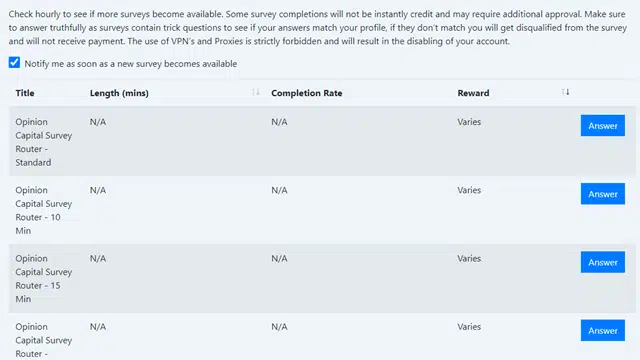 Option 2 – Daily login bonus
Once a day, you will be able to claim a login bonus. The first time you log in to the site for the day, you will immediately see something like the photo shown below.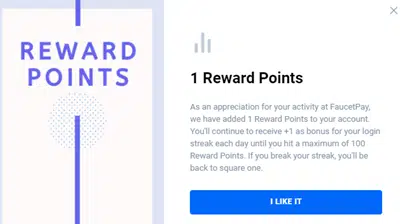 You will receive a daily login bonus every day.During your first day, the daily login bonus will be set to 1 Reward Point. This will gradually increase when you keep your streak of logging in to the site. The maximum Reward Point you will get will be 100 Reward Points.
Option 3 – Offerwalls
Offerwalls do this through their paid offers. These paid offers are simple tasks you can do to earn rewards. These tasks will usually ask you to answer surveys or quizzes, play mobile games, sign up for websites, watch videos or ads, and more.
To work on a paid offer, just choose which offerwall you want to work on and click it. Then, click the offer you are interested in doing. You will then see the instructions you have to follow to complete the offer. Make sure to read and understand the instructions before you start because if you miss even just one step, you will not be able to complete the offer and you won't get paid.
Option 4 – FEY staking
Speaking of other opportunities, you can also earn by participating in their FEY staking. If you've been working with cryptocurrency for a long time, this will be very familiar to you. But if this is your first time hearing about the term "staking", it's a form of earning opportunity where you can earn cryptocurrency by depositing a certain amount for a specific period.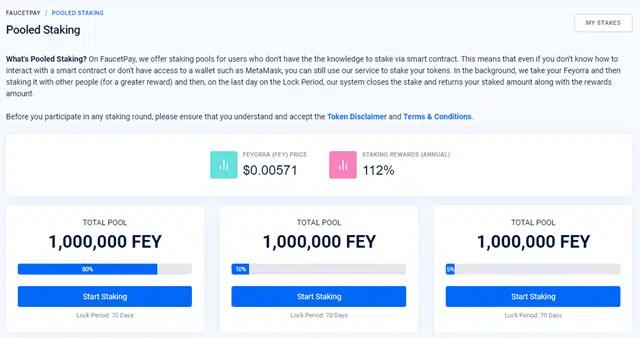 Conclusion
FaucetPay is a legit GPT site that has its own unique features, but it also has certain drawbacks you need to keep in mind.
Let me end this review with a summary of its pros and cons so you can get an overview of what the site has to offer. Then, you can decide if this is really a site worth investing your time into or not.
PROS
You can easily trade your crypto earnings on their site.
They are generous with their daily login bonus (as long as you keep the login streak going)
It is mobile friendly
Secure with 2FA authentication
CONS
Limited earning opportunities offered.
Low earnings without referrals.